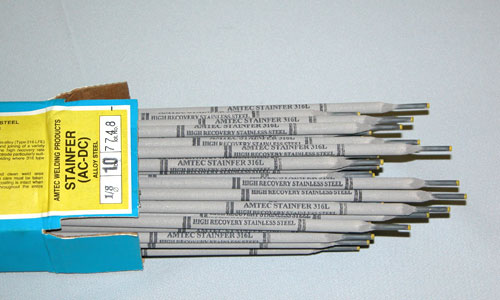 Amtec Stainfer 316L Stainless Steel
Amtec Stainfer 316L is an economical, fully synthetic, high performance, joining and cladding stainless steel alloy for use on a variety of stainless steels. Stainfer has very high speed weld deposition and easy striking. It produces clean, spatter free welds and the slag lifts by itself. It has an extra low carbon content, suitable for welding CR-NI-MO steels in the 300 series, such as 316L. The loaded flux and mild steel core wire keep the electrode from overheating, and the electrode deposits much more than conventional typestainless electrodes. The 1/16 and 5/64 sizes arevery popular for welding out of position andfor stainless steel pipe welding.
Download the product information .pdf for more details.