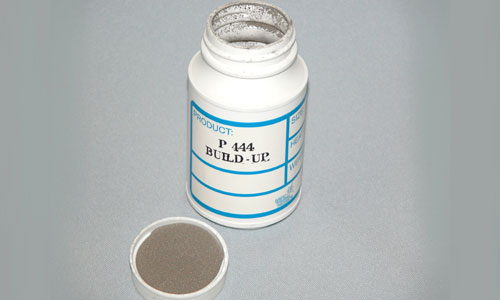 Amtec P 444 Spray & Fuse Powder
Amtec P 444 is a special, gas atomized, spherically shaped, nickel based, spray and fuse "puddle torch" powder containing Chromium, Silicon and Boron elements for build-up and medium hardness surfaces on cast iron. It has a particle size that enhances the bonding capabilities, and reduces over-spray. The metallurgical structure of this powder makes it good for general repair work such as blow holes in castings, repairs to glass molds and pump parts. Amtec P 444 is machinable and has excellent resistance to impact. The color match is excellent on most cast irons and steels. P 444 can be used as a build-up prior to putting on hard overlays. It has excellent strength and contains certain synergistic elements that make it self-wetting on cast iron and most other ferrous metals. Use when a harder deposit is required than the Amtec P 350.
Download the product information .pdf for more details.